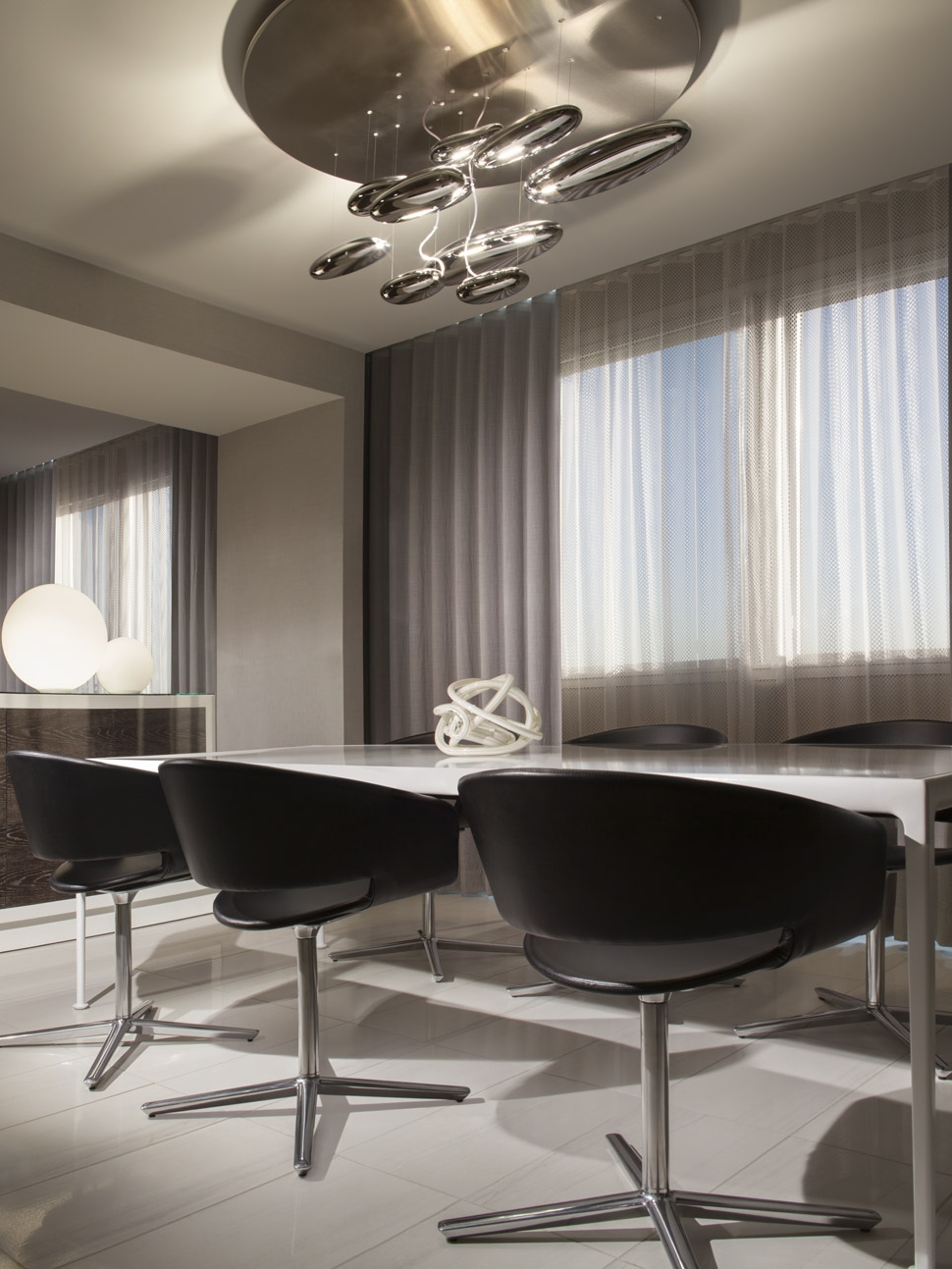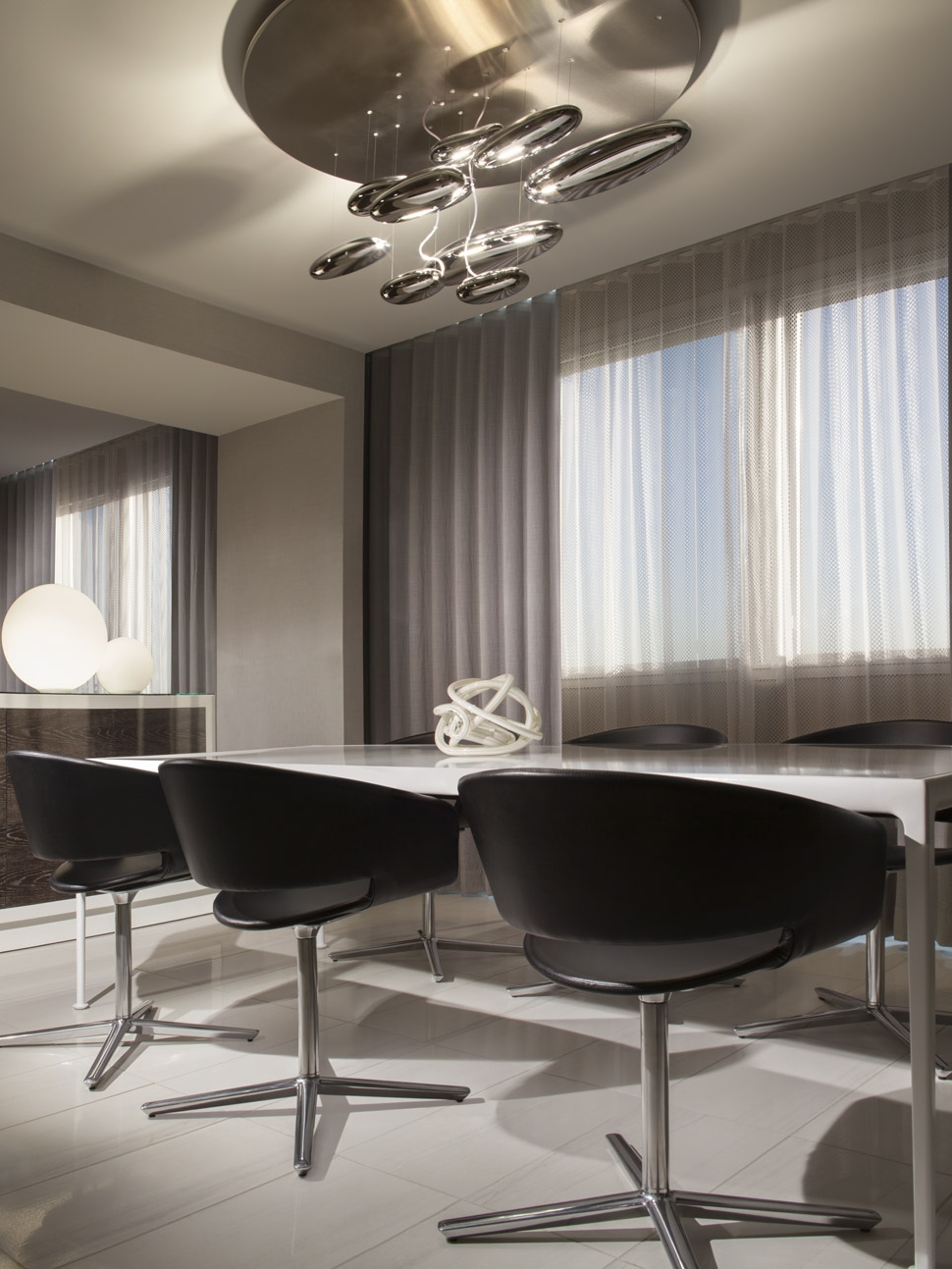 Hyatt Regency LAX
Directly linked to the LAX airport, the architecture of the newly renovated Hyatt Regency Los Angeles International Airport recalls an authentic mid-century modern aesthetic. The International style of the building along with the futuristic form of the iconic air traffic control structure and color changing pylons, act a precursor to this exciting new design. White sheers soften the view throughout the public space and reinforce the southern California vibe. Excellence and thought leadership are displayed through the repetition of design elements from the guestrooms to the public areas. The open concept lobby plan features faceted geometric front desk pods in walnut and an undulating white feature wall that flows out into the market food and beverage space where guests can select from take-out options, a focal bar or more traditional fare with sit-down dining.
Formerly offices, the newly created Conference Center is comprised of divisible Meeting Space. The design features white orb light fixtures, white textured walls and blue geometric patterned carpet which pay homage to the Hotel's west coast location. Light rays within the ceiling dramatically dissect the prefunction space. Patrons can utilize smaller breakout areas for impromptu gatherings or to visit permanent buffet stations within the prefunction.
Upon entry to the Ballroom, warm, walnut cladding serves as an organic relief which contrasts with white textured walls throughout. White sheers provide a translucent termination to the space and electronically controlled, custom, triangular lights with the ability to be programed to display one-of-a-kind light shows offer a unique event amenity.
The Guestroom design work is true to its mid-century origins featuring furniture reminiscent of the period in a neutral gray palette with contrasting bright yellow and purple accents. A triple globe custom pendant fixture and period style pedestal table anchor the room as focal elements. The streamlined architectural millwork package includes the closet, beverage center and a TV panel with a new 55" monitor display. A mirrored sliding barn door encloses the completely refurbished bathroom including a frameless sliding glass shower door, geometrically patterned wallcovering and a new cast stone vanity with an integral circular lavatory.
Separated by millwork portals, the multiple bay Presidential Suite follows the mid - century modern and futuristic design aesthetic recalled throughout the Hotel. Millwork portals create a spine through the space and lead the guest into the adjoining dining room and TV viewing area. The hallway terminates in the bedroom with a view of sparkling, circular wall sconces and an upholstered, patterned, headboard wall creates a back drop for the bed. The bedroom connects to the master bathroom which showcases black, interlocking glass tile instilling an element of luxury. Key furnishings such as the light fixture over the dining room table give a nod to the futuristic shape of the iconic air traffic control structure and recall design elements formerly mentioned. An overall color palette of black and white with varying tones of grey provides a neutral back drop for bright orange accents.